Medical Intuition Services
How could your health change if you had:
– A complete and holistic picture of what is causing your illness or symptoms
– A clear, aligned and actionable path forward – and one that is 100% customized for your body
– An understanding of how your specific thoughts, feelings, life experiences and epigenetics directly impact your ability to heal and how to shift them
– Peace of mind that you are capable of recovery and in charge of your health
– A renewed sense of hope with greater trust in yourself, your life path, and yes, even your illness
Welcome to a new possibility – get to the root of your health concerns and onwards towards healing with a medical intuitive session.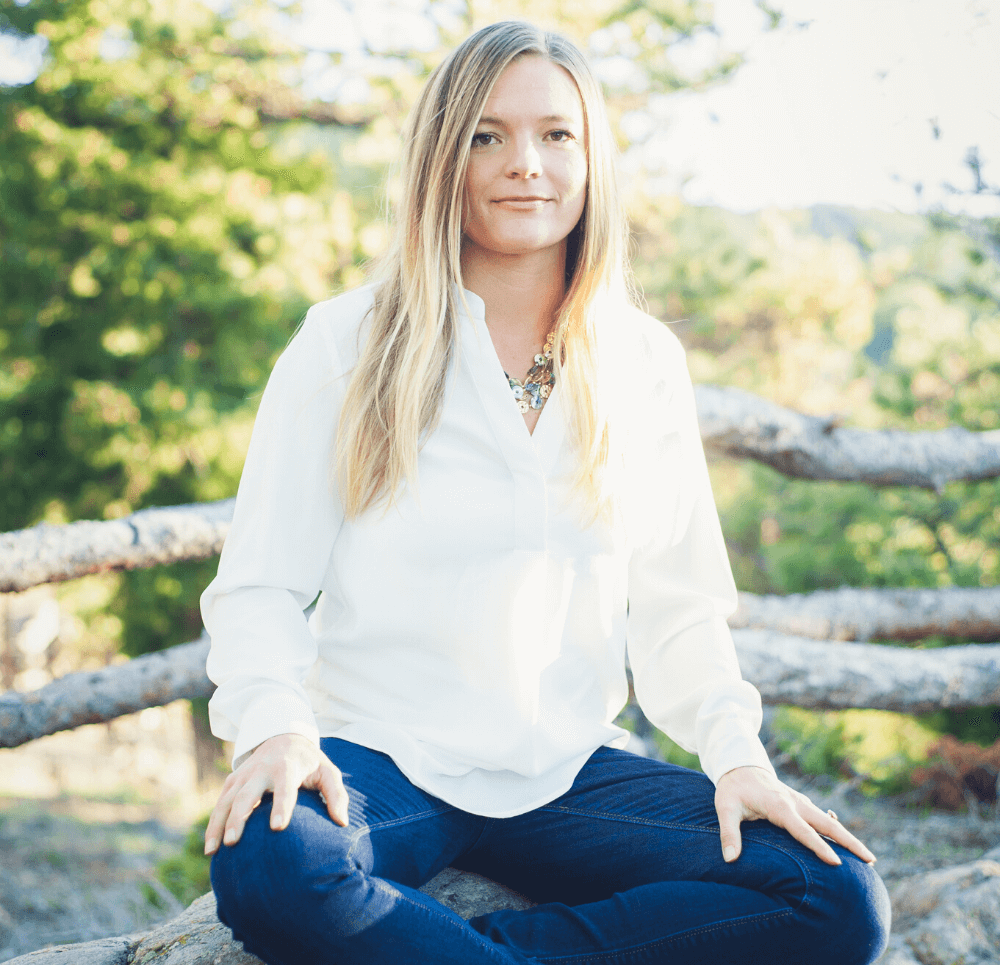 You are here because you want to feel better.
Perhaps you haven't been feeling great, are experiencing generic symptoms, and are not sure where to start looking for help. 
Or you have had a string of chronic illness or another undiagnosed mysterious condition and you need to know what is causing your symptoms and how to treat it.
Maybe you do have a diagnosis but despite working with the top practitioners and using the top treatments you still don't feel better.
Or you know there is more than just physical stuff contributing to your ill-health and your are looking to learn what that is.
And likely, you may be feeling worried about your health ad need to know what's happening and why so you can take steps to recovery. I am here to help you do just that. 
Hi, I'm Brittany Orowitz, Certified Medical Intuitive, Natural Health Practitioner and Healing States Expert, and I help people who are experiencing less-than-ideal health discover the root cause of their illness and how to shift it, so they can heal on all levels (physical, mental, emotional, spiritual), and trust themselves, their bodies, and their life again. 
I personally know what it's like to be in the throes of chronic mystery illness with no relief in site. 
Despite searching for answers for years, spending thousands upon thousands of dollars, and doing all of the "right" things and seeing all of the "right" practitioners, I still did not know what was causing my symptoms and my health was rapidly declining… 
At my wit's end, I consulted a medical intuitive who was able to tell me exactly what was going on on the physical level and how to shift it, which was later confirmed through medical testing. I was also shown the emotional and energetic patterns that were contributing to my illness and how they could transform. This was the game changer. With this clarity, I was able to move  toward greater healing than I ever thought possible. 
This experience not only deeply influenced my recovery, but also influenced my career. So much so that I decided to become a Certified Medical Intuitive Professional. This modality beautifully complements my health care and healing arts background (click here for my full background and training) and blends the best of the medical and metaphysical for a truly comprehensive approach. 
Medical intuition is an incredible modality and will play a vital role in the future of health care. Not only can it provide remarkable and accurate insights when used by a good and properly trained practitioner, but can be a life changing experience for those looking for true and lasting healing. And it can save lots of time, money and disappointment by getting to the root cause quickly!
Are you ready to move forward towards greater health, clarity and trust? 
Medical Intuition Services FAQ
What is Medical Intuition?
Medical Intuition is not a treatment, intervention or healing modality. It is a foundational energetic assessment and evaluation skill designed to support all healthcare models. Medical Intuition is part of the emerging field of Complementary and Integrative Medicine (CIM).
Medical Intuition is a method of intuitive scanning intended to obtain information from both the physical systems and energetic systems (biofield) of the body. Medical Intuition is designed to identify the underlying drivers and root causes of imbalance, to not only help promote physical wellness, but also emotional, mental and spiritual well-being.
Although Medical Intuition uses the word "medical," the use of Medical Intuition is not to be construed as the practice of medicine, psychotherapy, or any other licensed healthcare practice, and is not to be considered a replacement for medical care, diagnosis, therapy, counseling or treatment of any kind. Always refer to a licensed health care professional for health care.
What can I expect from a session?
During a session, we can look at specific issues and symptoms and/or we can do a full body scan to see what arises. The session includes a detailed physiological, psychological, emotional and energetic profile of the root causes of the imbalances, why they are there, and how they can shift. You will walk away with an energetic evaluation of what is happening in the body at the physical level, what metaphysical issues have been contributing to that (such as emotional patterns, belief systems, traumatic life events, and perceptions) and what specific steps, shifts, practices, protocols, etc. will help resolution. We can also read what the opportunity for growth is from this experience, and explore what the nexl level of health and wellness looks like for you.
What are the benefits of Medical Intuition?
Medical Intuition lies at the frontier of a new paradigm in health and wellness care where all aspects of us (physical, mental, emotional, spiritual) are assessed so that true healing may occur. Fortunately, science has been proving what the mystics have know for a long time – that our thoughts, emotions, and energetic bodies deeply influence our physical bodies, and to balance the physical body, these levels need to be addressed as well. Medical Inuition is the only modality that we know of that has the breadth and depth to assess these levels and provide a roadmap that can take you from imbalance and disease to optimal health. Other benefits include:
– Rapid and affordable assessment of root causes of health challenges
– Understanding of what has prevented healing and how to shift it
– Customized recommendations of how to activate your body's self-healing capacities
– A new perspective and greater trust of the occurence of health challenges
How accurate is Medical Intuition?
Medical intuition can provide accurate insights when used by a good, properly trained practitioner. The accuracy of medical intuition can of course vary practitioner to practitioner and it is important to work with a certified professional. Some who call themselves medical intuitives simply read emotions and energetic structures of the body such as chakras, and in our opinion, are not a true medical intuitive as medical intuition should include a thorough assesment of the phsyical body.
Because of recent advances in the field of mind body medicine, medical intution is starting to get the recognition it deserves, and has show promising preliminary results. The first ever pilot study which I participated in through my training, showed 94-98% accuracy rates in location and evaluation of health issues, description of life experiences that may correspond to health issues, consistency with a known medical diagnosis, and more. See chart below for more.
These result have spurred a collaboration with the University of California San Diego (UCSD) School of Medicine for a ground-breaking research study into Medical Intuition that is currently being funded.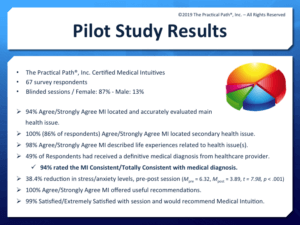 How did you become a Medical Intuitive?
Many people ask me if I have always been intuitive. The answer is yes to some degree, AND it's something I have practiced, trained, and honed my skills in for many years. I say this as many of the medical intuitives out there say they were "born with a gift" and I believe that makes intuition this mystical thing that we either have or we don't and that is just not true. We are all energy, the entire universe is energy, and medical intuition is simply the capacity to read that energy just like you have learned to read these words right now. Our human bodies and energy fields are built to be able to access these higher sense perceptions and with the right training, you could too. I officially became a Certified Medical Inuitive Professional through The Practical Path, the top Medical Intuitive training instituition. I have also taken many other medical intutive development courses through teachers such as Caroline Myss, Dr. Francesca McCartney and Laura Kamm. I have paired this education with my background as a Natural Health Professional, Certified Applied Kinesiologist, Healings States Coach and Energy Psychotherapist to create a truly comprehensive approach, bridging the best of science and spirituality.
As mentioned before, I became a Medical Intuitive because one 30 minute session drastically changed the trajectory of my health and life, and I believe it is one of the most promising solutions to our current sick care model. The vast majority of my adult life has been dedicated to awakening, and I have had the privilege to study with some of the top teachers of our time spanning both ancient wisdom traditions and well as contempary healing sciences. My personal passion and professional speciality is the mastery of creating healing states on all levels of our being. Medical Intuition is a perfect addition as it helps to identify so many of the missing pieces in our current health care paradigm, like why you got sick in the first place and what barriers are in the way of your healing – not only on the physical level, but the mental, emotional, and spiritual levels which are equally if not more important. I like to think of Medical Intuition as the 30,000 foot view that can help connect the dots across all of the siloed healing professions so that you can get the best care for all levels of you. I would love to have Medical Intuition change your life for the better too. Reach out, I'd love to chat further.
Pricing
30 Minute One Issue Session – $100
1 Hour Reading – $175
90 Minute Reading – $225
I also offer combination sessions that combine all of my modalities – Medical Intution, Healing Work/Energy Psychotherapy, and Functional Health and Nutrition. Please inquire about these services and we can figure out the best fit for your needs.
Brittany is an unbelievably talented medical intuition practitioner.
She created a super safe and sacred space for us to speak. We started with an explanation of the session and a breakdown of our conversation. This made me feel so held and heard.
Once we got into the session, I was blown away. Everything Brittany said resonated with me, my body, and soul. It was the first time I actually listened to my own body. She was spot on with my conditions, the reasons behind the symptoms and beliefs that were limiting me. The first thing she mentioned was a small stress headache, which was how I woke up that morning. It was insane!
Seriously, I was so incredibly impressed and grateful. Brittany has such a gift. I would recommend her to anyone. Enjoy, it's life changing!
– Nicole L.
"Brittany has been such a blessing to my health jouney. She has brought the heart, clarity, and connection that I was craving in my care. Brittany has an incredible intuitive gift and is able to get very detailed information not only about the body, but how so many other non physical things are impacting our health. Brittany also helped me to feel deeply seen and reminded me of who I am and who I want to be despite my health issues. Since working with Brittany, my health has been getting better every day, and I've been doing a lot of healing work to address the emotional patterns we discussed, and I feel happier than I have in a long time. "
– Darcy Q.
"I was very skeptical about seeing Brittany, but my girlfriend had been working with her and highly recommended I do for a few health issues I'd been having. After 15 minutes on the phone, let's say I was a skeptic no more. Brittany clearly identified the areas in my body that were causing issues (I had not told her anything before the session), what was going on and what could help. She also picked up on some emotional issues that I was having with my family that had been causing great stress for the last couple of years. I had been experiencing patches of dry skin for the last 10 years and nothing had helped it. Brittany read that chicken could be causing this, and after just a few weeks eliminating chicken, my skin issues went away."
– Greg R.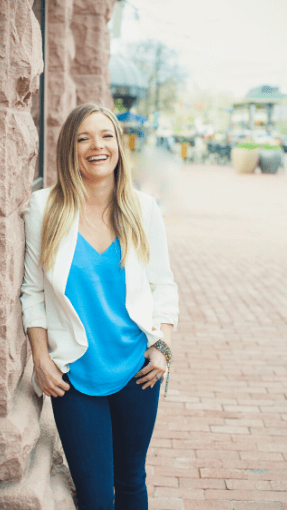 Brittany Orowitz is a Certified Natural Health practitioner, Certified Advanced Kinesiologist, Certified Medical Intuitive, Energy Psychotherapist, Lebowitz Protocol Practitioner, traditional naturopath and healing states expert. She has dedicated her life to understanding how it is that we heal on all levels of our being – physical, mental, emotional and spiritual – and she brings comprehensive, wise and caring insight to all of her sessions. Brittany's training, combined with her own journey and dedication to awakening, allows her to deeply attune to her patients to discover what's really in the way of their healing and how to correct it.
She holds a deep and intimate healing space for all her clients, seeing them in their wholeness and inviting them into their greatness. Although people walk in to see Brittany to "fix" health issues, they walk out not only with a clear plan to resolve these issues, but also with a greater trust in themselves, their bodies, and their lives.
New Patient Appointment Request

Awakened Health Care for the Whole Family
bouldersolchiropractic@gmail.com
2503 Walnut Street, Suite 100, Boulder, CO 80302